Singing In Babylon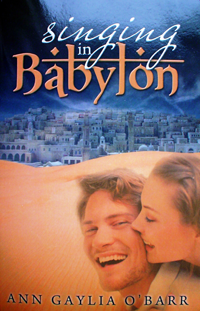 Two worlds, two hearts in exile, are about to collide. And when they do, might they find a new song to sing … in Babylon?
Recent grad Kate McCormack, saddled with college debt, has limited options … until she accepts an offer to teach English in Saudi Arabia. Life in the "enchanted kingdom" is nothing like she thought.
Plunged into a foreign world, she's homesick and lonely, stuck in a gilded prison where women aren't even allowed to walk around the block by themselves. The future stretches before her like a leaden sky.
Journalist Philip Tangvald, on the trail of a story about illegal immigration routes through the Middle East and North Africa, is intrigued by the feisty Kate, but wonders if he deserves to find love again. Too much loss and betrayal has burdened his life. First, his father, when he was eleven. And, a year ago, his wife. Now he's free of everything—except the guilt from his past—and wants to stay that way.
Winner Clash of the Titles Contest
Author interview at A Pen for Your Thoughts
Author interview at Writing for Christ
Buy the book or a digital copy (Kindle, Nook) from:
 Amazon.com
Available from all book sellers including:
Christianbook.com